In Memory
Dennis Rau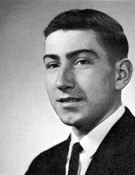 RAU, Dennis Otto, passed away May 22, 2016, Saginaw Township, MI. He was 71 years old. Dennis was born on February 20, 1945 in Bay City, MI to the late Otto and Emily (Leinberger) Rau. He married Diane Leinberger on September 19, 1965; she survives him. Dennis graduated from Handy High School in in Bay City in 1963. For a majority of his life, he cared for the family farm, Dennis Rau & Son. He could be found cultivating and harvesting sugar beets, pickles, corn and navy and soy beans. He also raised cattle. He loved his farm as if it was part of the family. The family went on to own and operate D & D Farm Market in Houghton Lake.
Dennis and Diane were lifetime members of St. John Amelith Lutheran Church. In his spare time, Dennis got together with his friends and played euchre, enjoyed gardening, was an avid hunter and fisherman, but loved nothing more than spending time with his family.
Left to cherish his memory are his wife of 50 years, Diane; three daughters and one son: Becki Rau and boyfriend, Alan Love, Shelly (Craig) Bartholomy, Karri (Anthony) Dill, and Michael (Robin) Rau; ten grandchildren: ten grandchildren: Jessica (Chad), Dominique, Rachelle, Faith, Kaylee, Kortnee, Kaitlyn, Piper and Paige; three great-grandchildren: Hunter, Hayden and Makayla; six sisters: Judy (Richard) Kraenzlein, Jean (Robert) Wegener, Linda (Richard) Schroeder, Annette (Thomas) Klumpp, Mary (Micky) Gray and Joy (Scott) Mollenhauer; and extended family members and many friends. Dennis was preceded in death by his parents and sister, Gail Rau. His funeral took place May 25, 2016.
Source: Deisler Funeral Home, Saginaw, MI