In Memory
Marian Kuch (Gwizdala)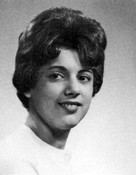 KUCH, Marian A. Gwizdala passed away in Rapid City, SD, surrounded by loved ones, on March 16, 2023, age 77. Marian was born in Bay City, MI, to Edwin and Emma Kuch.
She married Louis Gwizdala, Sr. in 1964, and together they raised four children, Kathy (Mike) McFarland, Kelly (Damon) Mittelstedter, Kimberly (Matt) Dilts, and Louis Gwizdala, Jr.
Marian moved to Rapid City in 2005, where she began working at EZMart convenience store in the valley. She enjoyed working at the store, playing cards, bowling, golfing and getting her hair and nails done.
Marian is preceded in death by her parents, Edwin and Emma; and in-laws Andrew and Shirley Gwizdala. She is survived by her five siblings, Esther Nalevayko, Russell Kuch, Judy Swantek, Pauline Davis, and Bonnie Berger; her husband, four children, eight grandchildren and six great-grandchildren. Marian was loved and will be missed by many.
A memorial service will be held at a later date. If you would like more information on the memorial service, please email mgwizdala.memorial@gmail.com
Source: Kirk Funeral Home, Rapid City, SD