In Memory
Bernard Klosowski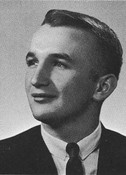 KLOSOWSKI, Bernard P. "Bernie" passed away August 23, 2019, Bay City, MI, age 73. He was born in Bay City on October 13, 1945 to the late Adam and Helen (Dobczynski) Klosowski. Bernie was a graduate of T.L. Handy High School, Class of 1963. He served in the U.S. Marines during the Viet Nam War 1963 - 1967. Bernie married the former Germaine "Geri" (Sieja) Galloner on October 7, 1978 at St. Vincent de Paul Church. She survives him. He owned and operated Bernie's Barber Shop for 25 years in Kawkawlin and was a member of Prince of Peace Parish-St. Anne Church where he served as an usher. Bernie was an avid bow hunter, enjoyed his garden; he raised rabbits for several years and loved dogs especially his buddy Muffin.
He is survived by his wife of 40 years and children Michael & Michelle Galloner, Anne & Joseph Nowak and Jason & Jennifer Galloner; six grand children Keygan, Rylee & Brendyn Galloner, Sarah (Matt) Foster, Marissa & Nolan Nowak, two very special great granddaughters, Evelyn and Josephine; his in-laws Elaine Klosowski, Cheryl Klosowski, Duwaine LaLonde, Marge Cowan and Alan & Gerri Sieja, also numerous nieces and nephews. He was preceded in death by his siblings and in-laws Gerald, Leonard & Rita and Raymond Klosowski, Patricia LaLonde, Joan & Lyle Venner and William Cowan.
Funeral Mass was held Saturday, August 31, 2019 at Prince of Peace Parish-St. Anne Church with Rev. Fr. Nicholas F. Coffaro and Deacon Lee Stillwell presiding with inurment in St. Mary's Mt. Calvary Cemetery, Kawkawlin, MI.
Source: Rivertown Funeral Chapel, Kawkawlin, MI