In Memory
Karen Weber (Smith)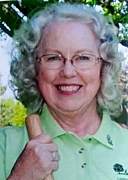 Karen Lee (Weber) Smith passed away at home on August 14, 2014 after a courageous battle against cancer.
She was born March 25, 1945 in Chickasha, OK, daughter of Eugene and Doris (Martin) Weber. They moved to Bay City when she was 2 years old.
She graduated in 1963 from T.L. Handy H.S. and married her classmate, James N. Smith on September 12, 1975. When her children were growing up she spent endless hours volunteering in the Bangor Twp. Schools, PTA, Bangor Band parents, Scouts, Audubon Club and Bay Medical Pediatrics Unit. She loved attending all of her children's and grandchildren's school and sports activities and was their greatest fan.
She worked in the Bangor Twp. Elementary Schools teaching nutrition through the MSU Expanded Nutrition Program and was also a Chapter Three Aide at Bangor Central tutoring students in math and reading. She was the site manager of the Bangor Sr. Citizens Center for 7 years and the Owner/Operator of Sunshine Sr. Tours from 1987-2014 and was blessed to have traveled all over the world. She dearly loved her travelers and considered them her extended family and a part of her heart.
She is survived by her loving husband, James; her beloved children, Shari (Paul) Mehlhose, Bay City, and their children, Daniel, Gregory (Annelysse) and Renae; Mark Banaszak, Wheeling, IL, and his children Nicole, Michael and Gina; Lisa (Patrick) Steffen, Essexville, and their daughters Emily and Megan; step-son Jeffrey (Wendy) Slancik, Pinconning and their son Zachary; great grandchildren Caleb Mehlhose and Gia Banaszak; her mother Doris Whitener, Chickasha, OK, brother Robert (Jan) Weber, Arizona; sister-in-law, Lois (James) Anderson, Midland; her beloved friends and sister of the heart Libby (Bob) Stringer; and very dear friends Virginia Mason and Don and Evelyn Spychalski.
She was preceded in death by her father, sister Pamela (Weber) Keith, and infant daughter Amy Elizabeth Banaszak.
FUNERAL- Services will be Thursday, August 21, 2014 at 2 p.m. at St. Luke's United Methodist Church, 206 Scheurmann St., Essexville. Patrick M. Steffen will officiate. Private committal service will follow.
VISITATION-Friends are welcome to visit with the family at Penzien-Steele Funeral Home, 608 N. Madison Ave., Bay City on Tuesday, August 19, 2014 from 5:00-8:00 p.m. as well as on Wednesday, August 20, 2014 from 1:00-4:00 p.m. and 5:00-8:00 p.m.
MEMORIALS-In lieu of flowers, those planning an expression of sympathy may wish to consider Royal Family KIDS Camp #295 or Mid-Michigan Home Care.